Josh Lee - Fatal Error (Album)
SKU:
Josh Lee's fourth album brings us deeper into the time when he had his meltdown around the Call Me on the Telephone era. This album brings together the build up of the breakdown, the actual breakdown, and the rise from it. This album is packed full of new amazing songs of pop, rock, techno, and EDM. Come along the ride of his fatal error.
Powered by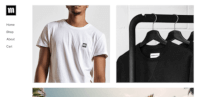 Create your own unique website with customizable templates.